Thermflo Careers
POWER UP YOUR CAREER WITH THERMFLO!
Thank you for your interest in working for ThermFlo. The success of our company is, in large part, attributed to our dedicated employees. We are pleased to provide you with this page that describes some benefits ThermFlo employees receive in addition to our competitive benefits package. It is our policy to work with all members of our team in a fair and friendly manner. We aim to provide a consistent and growth-oriented workplace and expect all our employees to do the same.
OVERVIEW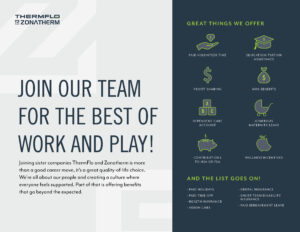 BENEFITS
While the benefits available to ThermFlo employees may vary, employees who meet certain eligibility requirements are currently able to participate in or receive the following:
401(k)

Profit Sharing Plan

Paid Holidays

Paid Time Off (PTO)

Education/Tuition Assistance

Contributions toward Health Insurance for the employee and other qualifying individuals under the company plan

Vision Care Discount (for those on the company's Health Insurance plan)

Dental Insurance

Short-Term Disability Insurance

Wellness Incentives, Wellness Programming, and Wellness Committee

Contributions toward employee Health Savings Account (HSA) or Flex Spending Account (FSA)

Dependent Care Account

Bonding/Caregiver Leave and Paid Maternity Leave

Paid Bereavement Leave

Paid Volunteer Time
Note: The above list is illustrative only. The benefits each employee is eligible for is communicated at the time of hire and thereafter governed by company policies and contracts that are subject to change.
STATE-OF-THE-ART FACILITY
EXTERIOR
In 2017, we designed and built our new home at 875 Busch Parkway in Buffalo Grove, across 4.33 acres.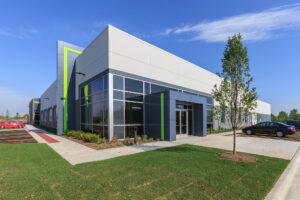 INTERIOR
Our open-concept design allows employees to collaborate and work as a team. Our facility includes a fully equipped fitness center, wellness room, mother's room, outdoor patio, nutrition kiosk, and more.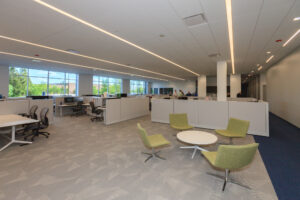 HIGH PERFORMING CULTURE
We are excited to introduce you to our High Performance Culture. We created "30 Fundamentals" that describe how we run our business – the way we treat our customers, the way we work with each other, and even the way we relate to our vendors and suppliers. They are the most complete description we've ever written of the practices and principles that form the foundation of our unique culture.
We expect all our employees to take the time to familiarize themselves with these Fundamentals. They are part of our daily conversations, they're who we are, and they're what drives our success.
CONVENIENT LOCATION
ThermFlo's headquarters​ is conveniently located less than 0.5 miles from the Buffalo Grove Metra Train Station. Our location also allows easy access to I-94 and I-294.

HEADQUARTERS:
875 Busch Parkway
Buffalo Grove, IL 60089
APPLY NOW!
ThermFlo is an Equal Opportunity Employer encouraging diversity in the workplace. All qualified applicants will receive consideration for employment without regard to race, national origin, gender, age, religion, disability, sexual orientation, veteran status, or marital status.
Please click here to complete ThermFlo's employment application and send it to [email protected] to apply. Please email us at this address regarding any open positions.
For all inquiries, please contact Kate Simmons, Director of HR and Compliance at 847-353-5328